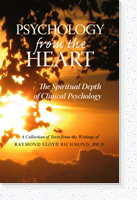 Psychology from the Heart
The Spiritual Depth of Clinical Psychology
A collection of texts from the writings of Raymond Lloyd Richmond, Ph.D.
Psychology has too often been preoccupied with the pursuit of happiness, and it has missed the point about helping individuals understand life and find a personally meaningful—and practical—sense of direction. Psychology itself cannot offer any meaning to life, but it can help individuals disentangle themselves from the snare of illusory social identifications that keep us trapped in spiritual blindness and pull us backwards into self-destruction.