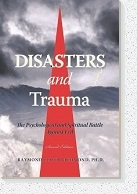 Disasters and Trauma 2E
The Psychological and Spiritual Battle Against Evil
Compiled from several pages on this website and attractively organized into the convenient format of a paperback book.
Terrorism, social violence, and man-made and natural disasters are overwhelming our societies, and neither our governments nor our mental health systems really understand what is looming in front of us. This book addresses the psychological and spiritual components of trauma and evil that are critical to coping with unexpected and shocking reality.